Before 2018, Pharmacovigilance (PV) System in China is not comparatively mature, and companies' activities to drug safety were relatively passive. 2018 is a turning point of PV in China when the responsibility of market authorization holder (MAH) was finally implemented in adverse drug reaction (ADR) reporting. Subsequently, China for the first time included the provision of "establishing Pharmacovigilance System" in its Supreme Law of Pharmaceutical Supervision & Management: "China Drug Administration Law" in 2019, and shortly thereafter released "Good Pharmacovigilance Practice" (GVP, draft version for public comments) to standardize the responsibilities of MAH in PV at the end of 2020, which marked a new chapter of PV in China. According to GVP, companies are required to conduct a comprehensive drug safety evaluation and PV audit during the whole life cycle of a drug product to minimize drug safety risks and promote public health.
Key words: Pharmacovigilance (PV), PV system, adverse drug reaction (ADR), marketing authorization holder (MAH), National Medical Products Administration (NMPA)
Definition of Pharmacovigilance
Pharmacovigilance, abbreviated as PV, refers to the monitoring, identification, evaluation, and control of adverse drug reactions (ADRs) and other harmful reactions related to drug use. PV expands the scope in the monitoring of ADRs and is involved in the life cycle of a drug product from clinical trials all the way through post-marketing.
History of Pharmacovigilance in China
China was relatively late in its Pharmacovigilance work, which can be summarized into three stages: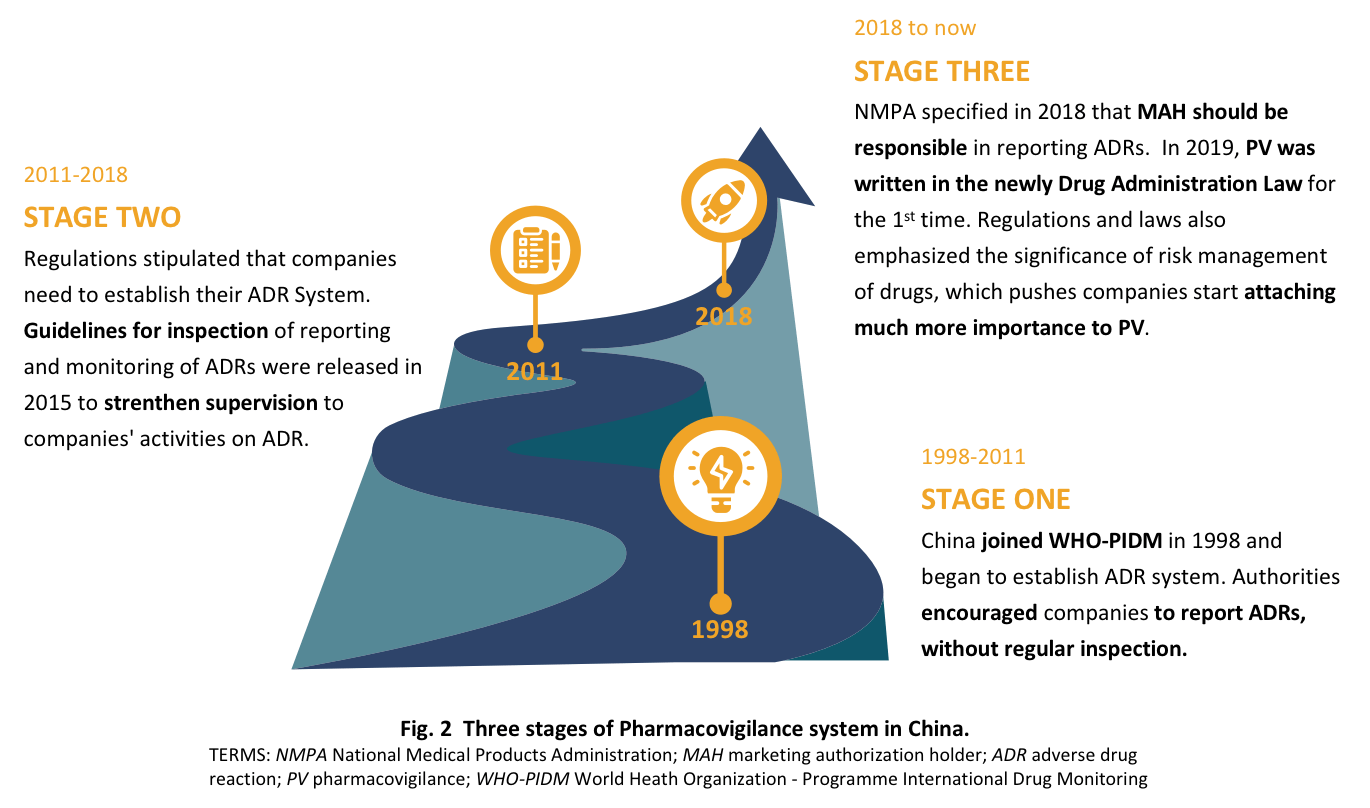 Important Regulatory Milestones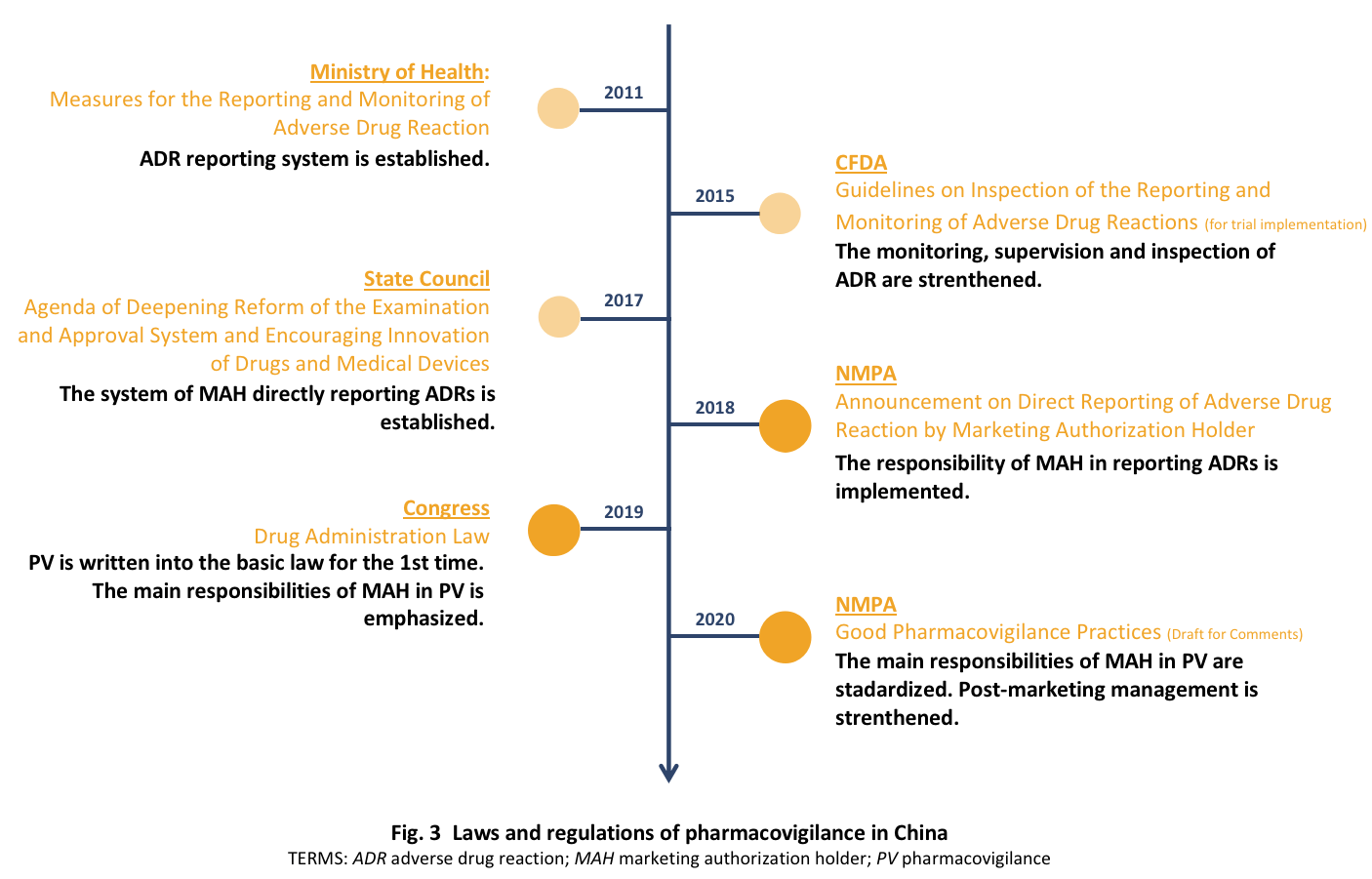 Post-marketing Responsibilities of MAH in PV
Establishment of PV System: Designate persons in charge of ADR monitoring, establish specialized departments, appoint specialists, and set up & improve relevant management systems. Monitor, identify, evaluate and control ADRs & other harmful reactions related to drug use through comprehensive and effective management and maintenance system.
Monitoring and Reporting of ADRs: Establish channels for collecting information of ADRs, collect suspected adverse reactions in the process of drug use actively and comprehensively, and report ADRs in time as required.(Channels to collect ADRs: Medical facilities, enterprises, phones, academic literature, post-marketing safety studies and projects, overseas information.)
Identification and Assessment of Safety Risks: Identify potential risks of drugs and conduct studies on the mechanism and causes of those risks, also carry out post-marketing safety studies actively, conduct ongoing evaluations of risks and benefits of drugs, prepare and submit annual reports and Periodic Safety Update Reports (PSUR).
Risk Control of Drug Safety: If the listed drugs are found to have significant risks according to the results of risk assessment, a PV plan shall be formulated, modified and implemented, and updated in a timely manner according to the changes of risk perceptions.
Creation and Maintenance of PV System Master Files (PSMF): Create and maintain PV system master files to describe the PV system and activities; update the master files in a timely manner to ensure that they are consistent with the current PV system and activities and conform to relevant laws and regulations and practical work requirements.
Accestra Consulting provides support on all Post-marketing Pharmacovigilance (PV) related activities in China, including:
Establishment and Improvement of Post-marketing PV System;
Processing of Post-marketing Individual Case Safety Reports (ICSRs);
Medical Literature Searching;
Periodic Safety Update Report (PSUR) Preparation;
Risk Management Plan (RMP) Preparation;
Safety Annual Report Preparation;
PV System Master Files (PSMF) Preparation & Update on behalf of client.