Signal management in Pharmacovigilance is an important part in China's Good Pharmacovigilance Practice (hereinafter "China GVP"), which was released by National Medical Products Administration (NMPA) in May 2021.
"To conduct efficient activities of signal detection and assessment" is listed as a fundamental requirement for quality management in Pharmacovigilance and one of the key responsibilities of The Market Authorization Holders (MAH) in the China GVP. The timeliness of signal detection and assessment is considered as one of the critical indicators of quality control. China GVP requires the MAH to ensure the timeliness of signal detection and assessment throughout the entire pharmacovigilance system.
In the China GVP, a signal is defined as information arising from one or multiple sources which indicates a potentially new association or a change in a known association between a drug and the event. Any information considered necessary for further assessment of associations shall be deemed as signal too.
Signal management and detection in China GVP can be summarized in 4 parts: 1) Method, 2) Frequency, 3) Prioritization and 4) Assessment.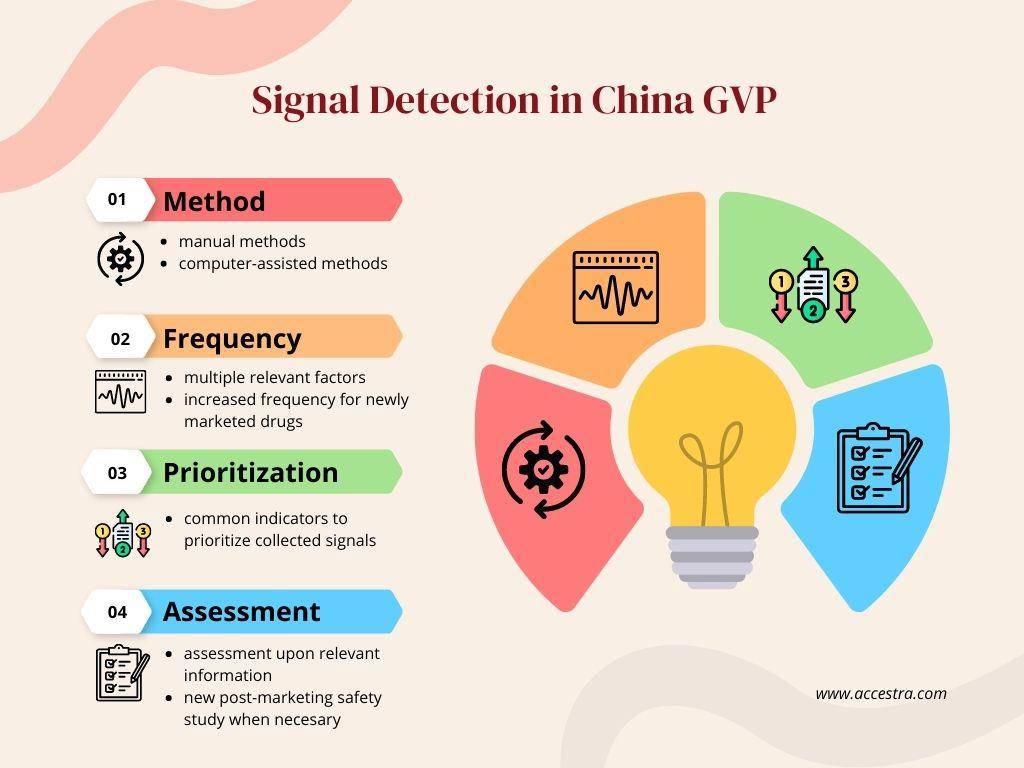 Methods of Signal Detection
The MAH shall carry out signal detection on suspected adverse drug reactions (ADR) collected from relevant channels in order to find out new safety risks in the drug in a timely manner.

To adopt appropriate, scientific, and effective methods for signal detection. The MAH should take into consideration its own conditions and the characteristics of the very drug when adopting detection methods. Different methods are often applied, including manual detection methods like reviewing the individual ADR reports, assessing case series, and analyzing case reports; and computer-assisted methods such as data mining.

Frequency of Signal Detection

To maintain a reasonable frequency of signal detection. The MAH should take into account relevant factors of a drug including the time to market, its characteristics, risk characteristics, etc. and keep a reasonable frequency of the signal detection.
For newly marketed drugs, improved new drugs, and other varieties required by drug regulatory authorities at or above provincial level or by ADR monitoring institutions, the frequency of signal detection should be increased.

Prioritization of Signals
To achieve a productive signal detection, the following factors are normally required to consider in order to prioritize the signals:

Seriousness, severity, outcome, reversibility, and preventability of ADR
Patient exposure and expected frequency of ADR
Exposure of patients in high-risk group and of patients in groups with different uses of medication
Impact of treatment interruption on patients as well as accessibility of other treatment options
The anticipated measures for risk-control
Signals applicable to other similar drugs

Assessment of Detected Signals
The MAH should collect relevant information—as comprehensive and extensive as possible—to make an informed judgment as whether the signal makes up a new risk of the drug safety. In addition, when necessary, the MAH may also conduct post-marketing safety studies to obtain more information.
The relevant information often includes the following:

Individual ADR report, including feedback reports from ADR monitoring institutions
Research data from clinical trials
Literature reports
ADR information or its epidemiological information
Non-clinical research information
Information from medical & pharmaceutical databases
Relevant information released by drug regulatory authorities or ADR monitoring institutions
Tips & Tricks for MAH
The following key points should be paid attention to by MAH for signal detection in China:
Adverse drug reactions not mentioned in the package insert, particularly serious ADR.
ADR mentioned in the package insert, but the occurring frequency and severity of the ADR increase significantly.
Suspected new ADR caused by interactions between drugs, between drugs and medical devices, or between drugs and food.
Suspected new special groups using the drug or changes in the drug use of known special groups.
Suspected ADR is showing signs of clustering and the correlation of the suspected ADR with drug quality cannot be ruled out.
Conclusion
Signal detection is one of the major responsibilities of MAH in China GVP. It not only determines the quality of the ensuing activities like risk assessment, but also directly relates to the quality of pharmacovigilance activities throughout the full life cycle of the product. Failure or insufficient compliance with the regulations in signal detection could result in penalty or punishment of the MAH by the Chinese authorities. Therefore, it is necessary for MAH to attach great importance to signal detection requirements and compliance.
Our Services
For advisory on complying with China's GVP and support with signal management and other pharmacovigilance activities, Accestra Consulting is your professional and reliable PV & RA outsourcing partner in China.
Contact Us
For more information or request for support please email: info@accestra.com