China pharmacovigilance inspection is a critical part for ensuring enforcement of patient safety systems. On April 15 of 2022, China NMPA has released theGuideline for Pharmacovigilance Inspection [No. 17 of 2022]. It requires that the authority and institutions conducting the inspection shall follow the regulations in Measures for the Administration of Drug Inspection (Trial) [No. 31 of 2021].
Accestra Consulting has provided an overview of the authorities in China who are responsible for China pharmacovigilance inspections: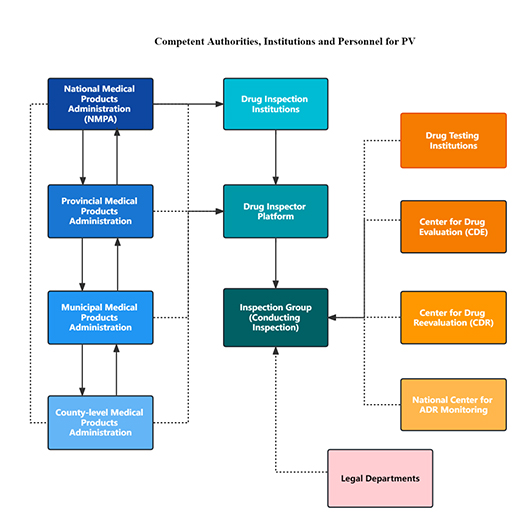 The overarching authority responsible for drug and pharmacovigilance inspections is China's National Medical Products Administrations (NMPA).The pharmacovigilance audit and inspection work are conducted in groups formed by the Drug Inspection Institutions. The complete inspection is fulfilled with the support of the following 4 institutions:
Drug Testing Institutions
Center for Drug Evaluation (CDE)
Center for Drug Reevaluation (CDR)
National Center for ADR Monitoring.
In addition, the legal departments will be involved upon legal issues.
Authority for Supervision of Drugs

NMPA and Local MPA including Provincial, Municipal, and County level are responsible to set up and designate pharmaceutical and pharmacovigilance inspection institutions in accordance with law.
NMPA shall be responsible for forming annual supervision and inspection plan, arranging inspection tasks, or organizing inspections, and work according to the Report on Comprehensive Evaluation of Drug Inspection and relevant evidence materials.
NMPA shall set up a professional team of specialized drug inspectors, implement multi-level & classification system for inspectors, formulate the standards of duties and duties of inspectors at different levels as well as requirements for comprehensive capability, and establish strict criteria for relevant positions.
NMPA and the drug inspection institution is responsible for establishing inspector database and inspector information platform to realize the information sharing and coordination of inspectors at all levels from national to county-level.

Institutions for Drug Inspection

Drug inspection institutions carry out inspections according to China's laws and regulations on drug supervision before issuing the Comprehensive Evaluation Report on Drug Inspection and be responsible for daily management of professional inspector team and implementation of inspection plans and tasks.
Other departments such as drug inspection, review, evaluation,and adverse drug reaction (ADR) monitoring established shall provide technical support during the inspection.
Drug inspection institutions shall establish a quality management system to continuously improve the quality of drug inspection work.
The drug supervision authority or drug inspection institution is responsible for establishing inspector database and inspector information platform to promote the information sharing and coordination of inspection within national, provincial, and county levels.

Drug Inspection Group

The inspection group should be set up by the pharmacovigilance inspection team to carry out the audit.
Usually, an inspection group consists of more than 2 qualified inspectors
The team leader is responsible for the inspection team. When necessary, experts in relevant fields can be selected to participate in the inspection
For advisory on complying with inspection requirements and China's GVP, Accestra Consulting is your professional and reliable partner in all these affairs.
Contact Us
For more information or request for solutions that tailored to your product, please email: info@accestra.com