Before 2018, the Pharmacovigilance (PV) System in China was still in its early days. Companies' activities to drug safety were for the most part passive.
Then market authorization holder (MAH)
was put
in place to report on adverse drug reactions (ADR)
.
As a result, in 2019 China included the provision of "establishing Pharmacovigilance System" in its Supreme Law of Pharmaceutical Supervision & Management: "China Drug Administration Law
."
Shortly afterward it released "
Good Pharmacovigilance Practice" (GVP, draft version for public comments)
to standardize the responsibilities of MAH in PV at the end of 2020
. This marked a new chapter of PV in China.
The GVP states that companies need to conduct a comprehensive drug safety evaluation and PV audit during the life cycle of a drug product
. This is to reduce drug safety risks and promote public health.
What is Pharmacovigilance (PV)
Pharmacovigilance (PV) is:
the monitoring,

identification,
evaluation,
and control of adverse drug reactions (ADRs).
This also includes other harmful reactions related to drug use.
PV expands the scope in how ADRs
are monitored
and plays a part in the life cycle of a drug product from clinical trials through post-marketing
.

History of Pharmacovigilance (PV) in China
China was late in its Pharmacovigilance work, which happened in three stages:
China joined WHO-PIDM in 1998 and began to establish ADR system. Authorities encouraged companies to report ADRs, without regular inspection.
Regulations stipulated that companies need to establish their ADR System.
Guidelines for inspection of reporting and monitoring of ADRs
were released
in 2015 to strengthen supervision to companies' activities on ADR
.
Stage Three
2018 – present
NMPA specified in 2018 that MAH should be responsible in reporting ADRs.
In 2019, Pharmacovigilance (PV)
was written
in the
newly
established Drug Administration Law for the first time
.
Regulations and laws emphasized the significance of risk management of drugs pushing companies to
prioritize
PV
.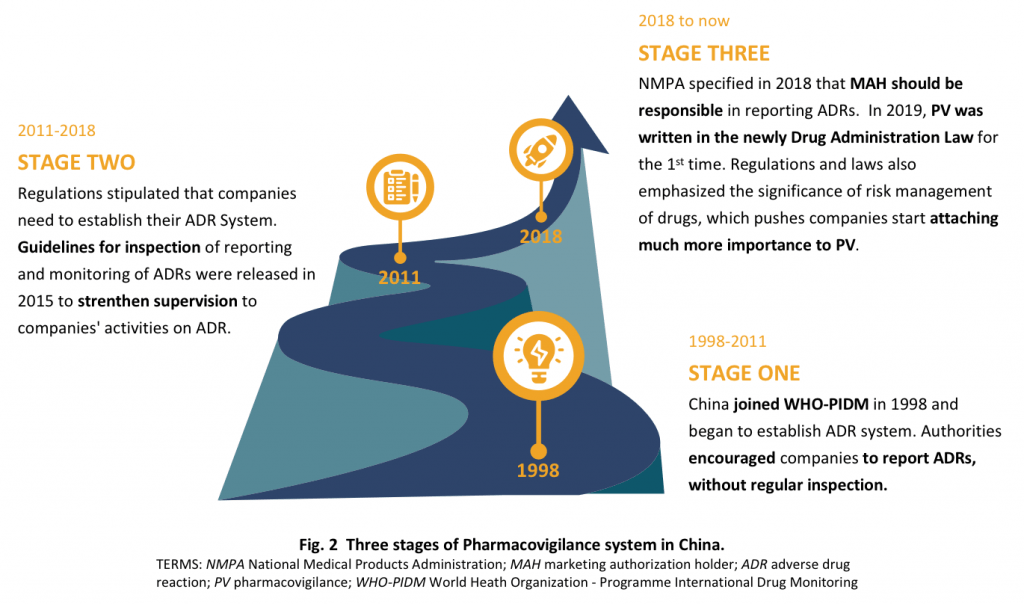 Important Regulatory Milestones
Ministry of Health
2011 – Measures for the reporting and monitoring of Adverse Drug Reaction.
ADR reporting system is established.
CFDA
2015 –  Guidelines on inspection of the reporting and monitoring of adverse drug reactions (for trial implementation)
The monitoring, supervision, and inspection of ADR are strengthened.
State Council
2017 – Agenda of deepening reform of the examination and approval system and encouraging innovation of drugs and medical devices.
The system of MAH directly reporting ADRs is established.
NMPA
2018 – Announcement on Direct Reporting of Adverse Drug Reaction by Marketing Authorization Holder.
The responsibility of MAH in reporting ADRs is implemented.
Congress
2019 – Drug Administration Law.
PV is written into the basic law for the first time.
The main responsibilities of MAH in PV are emphasized.
NMPA
2020 – Good Pharmacovigilance Practices (draft for comments)
The main responsibilities of MAH in PV are standardized. Post-marketing management is strengthened.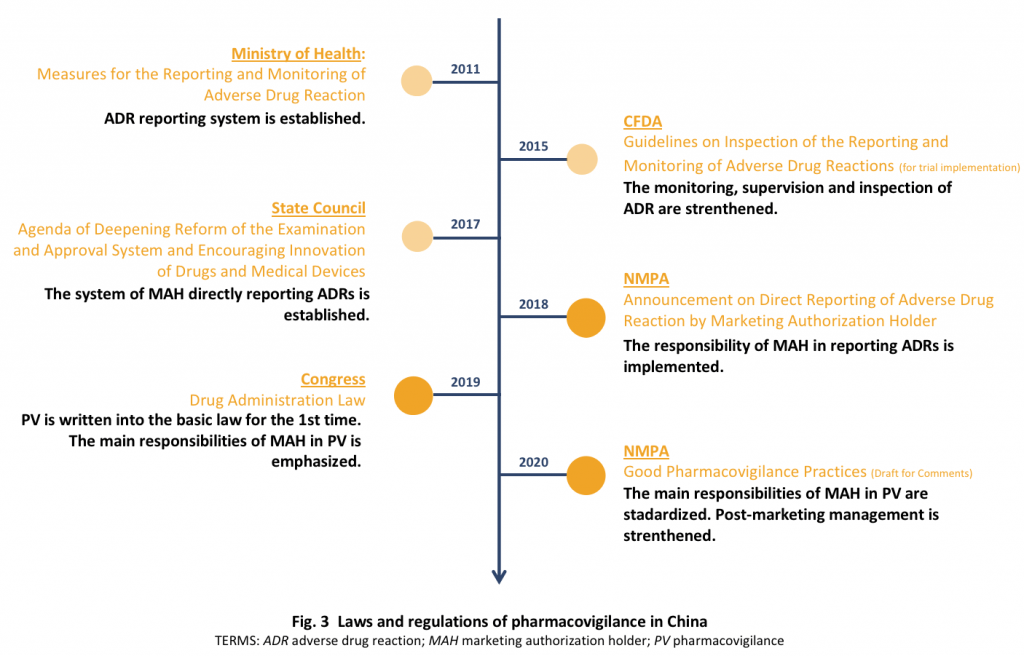 Post-marketing Responsibilities of MAH in PV
1. Establishment of PV System
Choose persons in charge of ADR monitoring.
Establish specialized departments.
Appoint specialists.
Set up and improve relevant management systems.
Monitor
, identify,
evaluate
and control ADRs and other harmful reactions related to drug use through comprehensive and effective management and maintenance system
.
2. Monitor
and Report ADRs
Establish channels for collecting ADR information.

Actively

collect suspected adverse reactions from drug use in a comprehensive manner.

Report ADRs in time as required.
Channels to collect ADRs include:
Medical facilities,

enterprises,
phones,
academic literature,
post-marketing safety studies and projects,
overseas information.
3. Identify and assess safety risks
Identify potential risks of drugs and conduct studies on the mechanism and causes of those risks

.

Actively

carry out post-marketing safety studies.

Conduct ongoing risk evaluation and benefits of drugs.
Prepare and submit annual reports and Periodic Safety Update Reports (PSUR).
4. Risk Control of Drug Safety
If the listed drugs have significant risks according to the results of risk assessment, a PV plan must
be made
, modified and implemented, and updated
in a timely manner
according to the changes of risk perceptions
.
5. Create and maintain PV System Master Files (PSMF)
Create and maintain PV system master files to describe the PV system and activities.
Update the master files on time to ensure that they are consistent with the current PV system and activities, and conform to relevant laws and regulations, and practical work requirements
Services Accestra Consulting Group can provide
We provide services for Post-marketing Pharmacovigilance (PV) related activities in China, including:
Establishment and Improvement of Post-marketing PV System.
Processing of Post-marketing Individual Case Safety Reports (ICSRs).
Medical Literature Searching.
Periodic Safety Update Report (PSUR) Preparation.
Safety Annual Report Preparation.
PV System Master Files (PSMF) Preparation & Update on behalf of the client.