In the first quarter of 2020, the National Medical Products Administration (NMPA) approved a total of 11 new drugs including 6 imported drugs and 5 domestic drugs. Among them, domestic medicines also have a vaccine and a traditional Chinese medicine as the table below shows.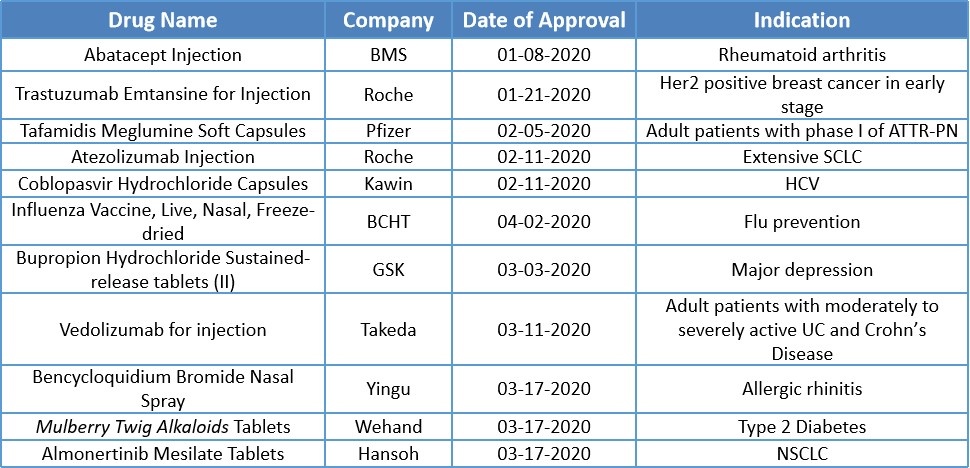 Note:
Here the NDAs are the drugs approved by NMPA in China for the first time, which includes NMEs (and compounds consisted of NME), biological products, traditional Chinese medicines and vaccines. The NMEs are mainly the category 1 and category 5.1 of chemical drugs. The biological products are mainly the category 1 and category 2 biologics, excluding biosimilars, new indications and new dosage forms.
The following is a brief introduction of some selected NDAs:
The first ADC drug approved in China
Roche's Trastuzumab Emtansine injectable (Kadcyla®) was approved in China on January 21, 2020, becoming the first antibody-drug conjugated(ADC). Its indication is for the adjuvant treatment of people with HER2-positive early breast cancer with residual invasive disease after neoadjuvant treatment. Kadcyla has been approved by FDA in May 2019, EMA in December 2019 and now also parallel approval of China.
The first approved traditional Chinese medicine for diabetes in recent 10 years
Mulberry Twig Alkaloids Tablet of Wehand was approved by NMPA on March 17, 2020. The main ingredient is twig alkaloids extracted from mulberry. This tablet is applied for the treatment of type 2 diabetes in combination of diet control. The phase III clinical trial has demonstrated the efficacy of the drug is similar with that of acarbose. Mulberry twig alkaloids tablet is the first new traditional Chinese medicine approved for diabetes in recent 10 years.
The first Chinese approved 3rd generation EGFR-TKI drug
Hansoh's Almonertinib mesilate tablets obtained approval from NMPA on March 18, 2020 for the treatment of adult patients, who have progress with or after the treatment of EGFR-TKI and are confirmed with the presence of locally advanced or metastatic non-small cell lung cancer (NSCLC) positive for EGFR T790M mutation by detection. Almonertinib mesilate tablet is the third 3rdgeneration EGFR-TKI new drug in the world , and also the first 3rd generation EGFR-TKI drug in China.
Besides the above drugs, NMPA has approved another two clinical urgently needed overseas new drugs, namely Pfizer's Tafamidis meglumine soft capsules and Takeda's Vedolizumab for injection. In addition, the nasal freeze-dried influenza live vaccine of BCT is the first nasal spray influenza vaccine in China, and Atezolizumab injection of Roche is the second PD-L1 drug approved by NMPA.
This article is translated from Pharmcube.