The scope of China Drug Master File (DMF) filing is for the following: Active Pharmaceutical Ingredients (APIs), pharmaceutical excipients & packaging materials. The registration approval by China Food and Drug Administration (CFDA) was replaced with a new DMF filing system, requiring overseas manufacturers to appoint an authorized agent in China for product registration with National Medical Products Administration (NMPA formerly CFDA).
A registration for DMF filing requires submission of the application dossier to China's Center for Drug Evaluation (CDE) to initially review for documentation completeness and obtain an inactive filing number within 5-10 working days. Subsequently, the dossier will be reviewed in combination with the dossier of the related finished dosage form (Drug-related Associated Review) to obtain the activated filing number.
Does China DMF comply with US FDA or EU EMA requirements?
China DMF filing is more closely aligned with the US FDA although referencing some similarities with the EMA regulations. Unlike the EMA regulations, the China NMPA and US FDA regulations do not have open or closed/restricted part. Similar to US FDA, China NMPA adopts a negative approval system neither approving nor disapproving a DMF filing. Although DMF filing guidelines of China are very closely aligned to that of developed countries since China NMPA joining the International Council for Harmonization of Technical Requirements for Pharmaceuticals for Human Use (ICH) in 2017, the devil is in the detail and some requirements need to be localized under the general regulatory framework for drugs. For a more detailed DMF comparison with FDA regulations click here.
China Product registration of APIs, pharmaceutical excipients and packaging materials has reformed over the years. After adopting the new DMF filing system, the license of marketing authorization has changed from import drug license to (active) filing number. The regulatory requirements for application dossiers and workflow of review & approval have been revised and improved, which brings benefit especially to overseas manufacturers to minimize their budget and time cost for product registration.
For a more detailed comparison between the previous approval system and the new DMF filing system, please see the table below (Table 1).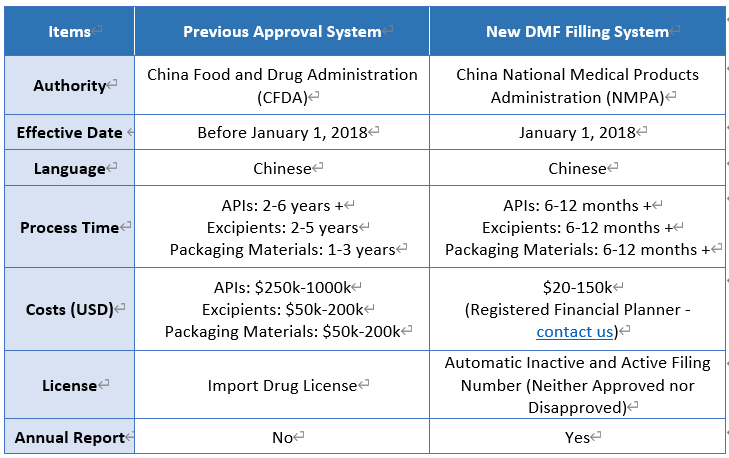 DMF Policy Update (August 2019)
On July 16, 2019, China NMPA published the new DMF requirements (Announcement No. 56 of NMPA, 2019), which was a major update to DMF filing for APIs, pharmaceutical excipients & packaging materials.
Key takeaways of the new requirements are below:
Risk-based evaluation for excipients and packaging materials
Annual report being submitted every first quarter of the year
List of excipients no longer required
Previously approved APIs in China are exempted from drug-related associated review
Dossier requirements and workflow simplified
Click here for more details
Is China DMF eCTD ready yet?
In 2018, CDE established an e-platform for submitting DMF filing for APIs, pharmaceutical excipients and packaging materials. Recently, the platform has been updated and more friendly to use. However, becoming a member of the ICH means the conformity of China technical requirements for pharmaceutical products with the international guidelines. Therefore, NMPA has released new regulations regarding CTD/eCTD submission in the past two years. From February 1, 2018, application dossiers for clinical trial approval, chemical drug and therapeutic biological product registration are required to be submitted in CTD format. In 2019, specifications, validation criteria and submission requirements were released by NMPA for eCTD submission. A grand launch of China eCTD is just around the corner. Please contact us: info@accestra.com to get ready.
Announcement No. 146, 2017 (published by the former China Food and Drug Administration (CFDA))
Announcement No. 56, 2019 (issued by China National Medical Products Administration (NMPA))